Our locksmith company offers a complete range of residential services for restoring and improving the security of houses and apartments. We repair, rekey and change locks of all types and brands regardless of their age. Our key repair and replacement services are equally effective and dependable. Seek our emergency assistance in any urgent situation and you will get it super quickly. As part of our scheduled services, we complete large projects for making homes more secure. Whatever your needs may be, we will meet them perfectly.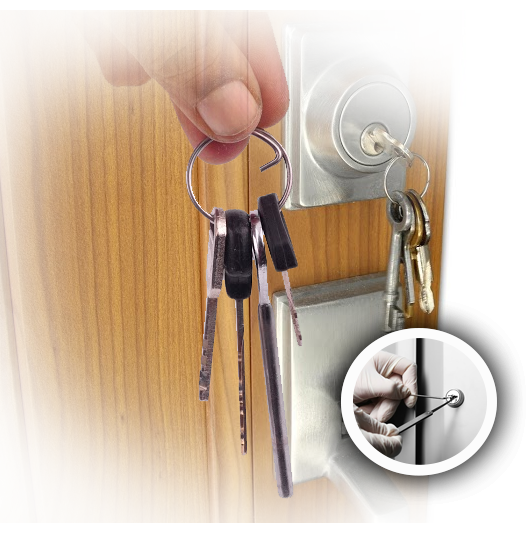 Emergency Locksmith Services Provided with the Speed of Light
We are readily available to resolve any problem from the most basic to the most complex. Our emergency lockout service is the fastest way to gain access to your home again. The only thing you have to do is to report the problem and stay calm. Our specialists will come quickly and open the door for you before you know it. We are experts in opening all types of locks, from the widely used mechanical latch devices to the most advanced electronic locksets. In addition to opening the door, we will deal with the cause of the lockout as well.
Our team always provides full servicing for making the property completely secure after an accident such as a lockout or a break-in. In case of stolen or lost house key, lock rekey is the quickest solution that we can implement to eliminate the issue completely. If the lockset is in poor condition or significantly outdated, we will replace it with a new one. At "Locksmith Sunnyside", we are always honest with our customers regarding the security of their doors. Count on us to provide full consultation so that you can make the best decision.
When a lockset was damaged or works poorly for no apparent reason, use our lock repair service. We have the best fix even for innovative digital devices. It takes only a few minutes for our technicians to determine the cause of the problem. Once this is done, the best technique for countering the cause is implemented. In the end, you will have a smoothly turning lock that keeps the door completely secure. We are equally effective when it comes to fixing keys. Any problem from rust to bending is eliminated fully. In cases when repair is not an option, we will produce a brand new key that works impeccably.
In addition to offering emergency assistance and scheduled repair, we implement all kinds of solutions for making house doors more secure. One of our most popular services is deadbolt installation. We will help you to select the strongest and most dependable deadbolt and fit it on the door of your home. You will also receive advice on how to use it for maximum security.
Call us now for more information and a quote.